Client
Adventures
Seaworthy Stories & Client Trips
Meet The Batsons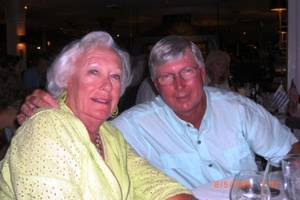 Meet Margaret and Walter Batson who inspire us with their zeal for cruising. They have been on the move since purchasing their 62′ Fairline Targa "Rising Tide" in May of 2007 from Nashville Yacht Brokers. Walter is the CEO of a company with 5000 employees so he has limited time off.
They knew they should get a fast boat so they could get to the places they wanted to see. They hired a full time captain to watch after the boat and deliver it to each starting point. If you ask them where they keep the boat, they will tell you she is homeless. They keep her moving all the time. Here's a list of where she's been this year! Brunswick, Georgia; Myrtle Beach, Baltimore, St. Michaels, Mystic, CT; Martha's Vineyard; Nantucket; Plymouth; Boston; Charleston; Savannah, Nettles Island, FL: Key West; Longboat Key, FL; Ft. Lauderdale and Miami.
This brings us to the latest trip and the spotlight of this story. They have just returned from their Caribbean adventure. Departing from Miami they made a few stops in the Bahamas and then on to the Turks and Caicos. They then crossed to the Dominican Republic and Porta Plata. The Batsons flew in with another couple to stat on the boat and explore. They report that Ocean World is a nice place, but the marina is open to a surge. Customs is easy, and the security is good. They recommend the casino and disco. Be sure to check out the quaint restaurants in the woods (Really Good). It rained a few days, so they drank, gambled and got massages. The beach bar is where the locals go and the food is great with a good view. When the weather allowed, Rising Tide departed for Cap Cana. Walter commented with enthusiasm that Cap Cana Resort is absolutely the most gorgeous resort he had ever seen. It is a big place with 3 parts. The golf course reminded him of Pebble Beach, one of the nicest courses in the world. The marina is wonderful. There is always a crew doing something and the grounds are maintained to perfection with a high guest to worker ratio. There are 9 high end bars and restaurants. It costs a small to medium sized fortune but worth it. The beaches and pools are "perfect". You can find a private place to hide or party depending on your mood. There are lots of boats to take you to other places. They had planned on going to another resort, but stayed there instead. They went to a different restaurant every night. Walter recommends you keep your schedule flexible because of the weather and desire to extend your stay in a place like Cap Cana.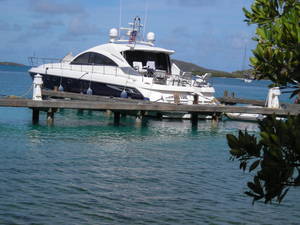 Next on to Simpson Bay where there is a bridge that opens 3 times a day (8:30 11:00 5:30) on either end to let you in and out. It is important to know the time or you will be hovering a while. This marina accommodates megayachts on down. There are "Big Ass Yachts Everywhere". It is on the Dutch side but everybody speaks English. Simpson Bay Marina has a great restaurant with a pool and night club. There are about 20 restaurants within walking distance. This is the place that the planes fly just over head on the beach to land. There is a famous picture of a 747 landing just over the beach. There is a bar there where you can hear the pilots as they land. Make sure you don't stand on the beach when they are taking off. You will be blown away literally. They watched a lady being blown into the water.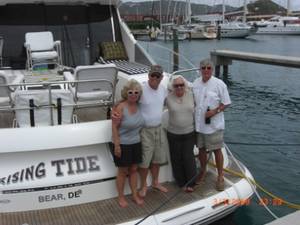 The Batsons and their guests went home and sent the boat to Puerto Rico, St. Thomas, and on to Sint Marteen where a new group arrived. They started at Ft. Louis Marina at Marigot where they report a small surge, but a spectacular view if you are willing to climb. This is not a beach town, but lots to do otherwise. Marigot is a quaint French town that was reasonably crowded with many different cultures. They use the Euro where they exchanged one for one with dollars if you had cash. They charged an extra 30% if other than cash.
They then went to Captain Oliver's on Oyster Pond. It is on the border between the Dutch and French quadrants. It's off the beaten path and about $70 a night including water and electricity. The prices on the trip were anywhere from $70 to $300 a night plus. You could rent a villa for about $700 a night. They rented a car here and went to the nude beach, but a cruise ship dumped a city population on it and ruined it. There are 27 beaches there, so it was not hard to find one that suited them with no people. Captain Oliver's has a great pool with 4″ glass at one end. The food was as good as they had ever had. The locals let their horses, donkeys, and goats roam the island freely.
The next stop was Anse Marcel and the new Radisson. It was not quite as good as Cap Cana but almost. There is a long channel leading to the marina which eliminated the surge. They have a long beach, and first class service. There is much to do, the restaurants are a little high, but good. It is a nice place, but a little snooty, so they took off to the British Virgins.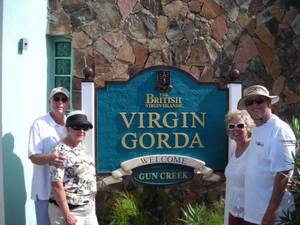 It was a fun ride to Virgin Gorda at 26 knots. There is a channel in but they decided to take the longer deeper way because they had no local knowledge (good idea generally). The Bitter End Yacht Club is a great place. The Resort and Marina were full. There is a free taxi to Saba Rock and definitely worth doing. The bar there has a great display of old outboard motors in mint condition, and the people were very friendly. The resort has lots of hammocks and chairs. The beaches are nice including the famous baths. They had what looked like a 230 footer in the marina.
It is just a short hop to Peter Island which is high end. A villa runs about $1000 to $1300 a night. They are boat people, so staying on the boat worked better anyway. If you stay in the marina, you can use the resort facilities. The marina is nice with good power. Golf carts take you around and the beaches were as nice as any they had seen. There are separate beaches for villas and marina guests.
From Peter Island, it was off to Crown Bay marina on St. Thomas. Walter recommended the restaurant there and there is plenty to do on the entire island. The Rising Tide is back in Ft. Lauderdale now preparing for the trip to Newport and on into Canada. If you catch it sitting somewhere by chance, stop and say howdy to our spotlight cruising couple.